45's

SAND 45-401
Accompaniment by The Kingsmen
5879 Space Walk
5880 Surf'n Sand
SAND 45-402
Accompaniment by The Kingsmen
5883 Spindrift
5884 String Duster Blues
SAND 45-404
Accompaniment by The Kingsmen
? Reflections
? Tumbleweed
ALBUMS
SAGE C-42
'SWINGIN' STEEL GUITAR'
Swingin' Steel-Touch Of The Blues-Satin And Silk-Drifters' Polka-Ernie's Special-Blue Steel-
Outside Inn-Catharina-Steel Boogie Twist-At Sunrise-Sage City Swing-Pedal Pusher Drive
MIDLAND MD-20
'STEEL GUITAR ODYSSEY'
Lickity Split-Perdido-My Elusive Dreams-How High The Moon-BlueJade-Cherokee Maiden-
Morning-Hi Jinx-Desperado-It Could Happen To You
ARKAY AR-1011
'LIVE FROM THE SAIL INN 3/72'
Contains two cuts by Ernie : 'Four' and 'Hammin' It Up'
CDs

AMBIENCE AR 10135
'MAN OF STEEL'
Lickity Split-Perdido-My Elusive Dreams-How High The Moon-BlueJade-Cherokee Maiden-
Morning-Hi Jinx-Desperado-It Could Happen To You-Swingin' Steel-Blue Steel-Tumbleweed-
At Sunrise-Steel Boogie Twist-Outside Inn-Space Walk-Surf'n'Sand-String Duster Blues-Spindrift
Here's what I wrote on July 3, 2001 :
Let's all rejoice : the first compact dics by Ernie Hagar is finally out !!
And what a cracker it is !!
'It is music truly sprung from the same fertile place that spawned Speedy West. I have given the CD my Number One rating for the Austin, Texas music publication - 'Third Coast Music' - for the month of August 2001.' wrote David Chamberlain * Tucker, Georgia (host & producer of the 'Sagebrush Boogie' radio show every Thursday on WRFG - FM 89.3 in Atlanta).
Titled 'Man of Steel - The classic stylings of a steel guitar master', it has just been released (late June 2001) by a new US record company, Ambiance Records. First thing you'll notice when you unseal the CD, is that the packaging is first class. The 8-page foldout booklet was designed by noted graphist/photographer, Ed Guthero, who also contributed a fine set of notes. Ernie's cohort, Larry Hosford, better known as Lorenzo, also wrote a superb piece which is sheer poetry to me. Last, Ernie himself gave some more info on the 20 recordings included : ten which represent the whole Midland album from 1978, five taken from the oh-so-rare Sage LP and the remaining five taken from his three Sand '45s (see Discography). Ernie decided to dedicate the CD to his longtime friend and guitar player supreme, the late Jimmy Wright. The photographs which decorate the booklet are very nice ; there's a recent pic of Ernie on the back of the case and a 1956 photo is reproduced on the disc itself (see picture at left).
The sound is okay but obviously, the digital mastering was not helped by the lack of master tapes ; still, the original sound and feel have been preserved which makes for great listening pleasure.
Anybody with an interest in pedal steel guitar sounds should investigate and purchase this CD. Ernie Hagar is a self-taught master who not only amazed his mentor, Speedy West, decades ago but also delighted Hank Penny when I played him Ernie's 'Steel Guitar Odyssey' album in 1987 in my music room, here in the South of France ; Hank, who played with more top drawer steelers than anybody else, told me that Ernie was in the same class as Curly Chalker : there's surely no better compliment as far as steel players are concerned.
---
This CD has long sold out and is now out-of-print : should you need a copy, please contact me by using the e-mail button at left.
It has now been replaced with the disc pictured at left, titled 'His Solo Works & More', especially created by yours truly on my APCD imprint. The sound quality is noticeably better and there are many extra tracks. The cover is totally different, though.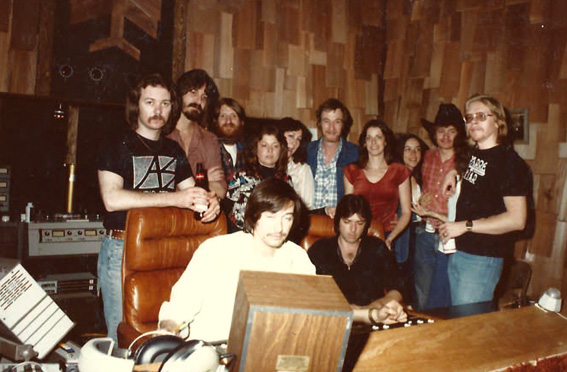 Front, left to right : Jody Peterson & Larry Collins.
Back, left to right (men only, sorry !) : Steve Clarke, Jim Estes, Jerry estes, Ernie Hagar, Billy Van Dyke and Herman Heilkama. Sierra Nevada Recording Studio, circa 1979. Photo courtesy of Jody Peterson.

© Paul Vidal * Privas, France * Autumn 2000/Summer 2007/Spring 2019