If there's a controversial period in Gene's recording career, it might well be that with UK Columbia in 1963-64.
Gene's contract with Capitol ended on March 22, 1963, and was not renewed. He was subsequently signed to Columbia in England but didn't begin to record new material until November of that year. Only two albums were released in 1963, both of them on Capitol : 'The Crazy Beat Of Gene Vincent' (which saw releases in Britain, France and Italy) and the French-only 'A Rockin' Date With Gene Vincent'. Happily, the former featured unissued tracks from 1958 (with The Blue Caps) and the remaining songs from the January '61 sessions (with the Jimmie Haskell Orchestra). The 'Rockin' Date' was a domestic compilation album which allowed Gene's many French fans to enjoy some stuff which hadn't been issued here previously. Two outstanding LPs which sold well and proved that Gene could still make a living from his back catalogue of songs. A British article from 1961 by Peter Hammond proclaimed 'Gene Vincent - The Star Who Doesn't Need Hits', and went on saying 'and yet he is capable of pulling them in on one-nighters to a greater extent than some American artists who visit this country to cash in on a hit disc in the charts'. But it would have been criminal not to record Gene in the studio during those years when his voice was at its peak. Even Elvis could not touch him at that time.
---
It seems absolutely incredible that the great Johnny Kidd, an awesome singer who was a big Gene Vincent fan himself, cut only two studio tracks in 1962 with the classic Pirates line-up ('I Can Tell' and 'A Shot Of Rhythm'n'Blues', which were coupled for one of the best '45s ever issued by British artists).
Amazingly, the same fate befell on Gene ! There was only one studio session in 1962 for him, the last one for his first label, where he was backed up by the Charles Blackwell Orchestra & Chorus. Ironically, his very last Capitol recording was a clever, twistin' remake of 'Be Bop A Lula' which, in retrospect, was quite good. Only two takes were needed to complete it and the stereo versions which appeared on the legendary CD box set in 1990 are breathtaking.
Since 1960, Gene had spent most of his time on the road, mostly in England and France but with the addition of numerous shows in Belgium, Italy, Switzerland and Germany (at the famous Star Club in Hamburg) among others. In Paris, there were triumphant performances at Le Théâtre de L'Etoile (October 1962) and Le Palais des Sports (January 1963).
Up to that point, when Gene recorded in England, the sessions had taken place at the famed Abbey Road Studios in London but the next ones would be held at Olympic Sound Studios. On November 14, 1963, Gene recorded three songs with the Bill Shepherd Orchestra. String and brass sections were on hand of course but Gene had already proved, during the January '61 sessions in Hollywood, that he was able to shine even in such a context. A second November recording date, this time led by Ivor Raymonde, would produce another three tracks. Let's take a closer look at these six songs.
THURSDAY, NOVEMBER 14, 1963
Where Have You Been All My Life : Matrix # 7XCA 27215. This pop-soul beauty was written by Barry Mann & Cynthia Weil for Arthur Alexander who cut it in 1962 (Dot 16357). Alexander was adored by the early British Beat groups. The Beatles recorded 'Anna' on their first LP and taped both 'A Shot Of Rhythm'n'Blues' and 'Soldier Of Love' for the BBC but it's Gerry & The Pacemakers who did 'Where Have You Been' on their first album. However, Gene's version is the best ; he sings it with ease and conviction at the same time, and it was beautifully orchestrated. It was one side of his first Columbia single (DB 7174) but what a treat to hear in stereo on the UK CD box set from 1990 !
Temptation Baby : Matrix # 7XCA 27216. Written by Joe Meek and performed by Gene in the film 'Live It Up'. This is a good rockin' track that suits Gene perfectly, with a guitar break in the middle ('Swing On, Now !' shouts Gene to the band). This, and a slighly different alternate take, appeared in stereo on the UK CD set.
This is the original single version (DB 7174), not used in the film. According to Derek Henderson, the film version would come from a session held at Joe Meek's studio in December '63. Interestingly, in his book, 'Joe Meek's Bold Techniques', Barry Cleveland cites Guy Fletcher who says : 'Joe used the tiled bathroom in his flat as an echo chamber. [] The yip of the neighbor's dog could often be heard on the echo return. It was certainly audible on tracks by Heinz and Gene Vincent.' Has anyone spotted a dog's bark in the movie version ?
The Beginning Of The End : Matrix # 7XCA 27515. Written by Dwayne Detroit who's said to be Bob Barratt in disguise. Bob had produced Gene's last Capitol session and was the writer of both 'King Of Fools' and 'You're Still In My Heart'. He would later produce the famous 'Shakin' Up A Storm' LP but more on that in a moment.
A good song in the same mold as 'Where Have You Been' but a bit faster, this was released as Gene's third Columbia single (DB 7293). This master take was presented in mono only on the UK CD set but two previously unissued takes (#2 & 3) appeared on a RockStar CD ('Important Words', RSRCD 027) in 2005, and in brilliant stereo. The puzzling thing is that the master number is not in sequence with the previous two titles ; it even follows the master number of the other side of the single, which was apparently cut at a later session in November '63 which is detailed below. Thus, the song could either come from an entirely different session or have been allotted that master number at a later date.
[It should be noted here that many alternate takes of the above - mostly in stereo - appeared on the Bear Family CD box set 'Gene Vincent - The Outtakes' (BCD 16842) in 2007.]
NOVEMBER 1963
Humpity Dumpity : Matrix # 7XCA 27274. Written by Mike Hawker and Ivor Raymonde, the latter being in charge of the arrangements and orchestration for this session. An odd choice for a follow-up - it should have been relegated to a B-side rather than being chosen as the main side of Gene's second Columbia '45 (DB 7218) which almost flopped upon release ! The brass solo in the middle is particularly annoying, ultimately giving the song a cheap feel that even Vincent's good vocal can't quite save.
A Love'Em And Leave'Em Kinda Guy : Matrix # 7XCA 27275. The flip side to the above. Composed by Joy Byers who was writing prolifically for Elvis's movie soundtracks at the time (i.e. 'Hard Knocks', 'Hey Little Girl', 'I've Got To Find My Baby' or the excellent 'C'mon Everybody' that he sang in 'Viva Las Vegas'). A somewhat better number with a jaunty, jerky piano answering Gene's vocal lines throughout but nothing very special in the end.
La-Den-Da-Den-Da-Da : Matrix # 7XCA 27514. Credited to Margaret Russell, Gene's third wife, but in fact it's an adaptation of Dale Hawkins's own 'La-Do-Dada' from 1958 (Checker 900). Gene had married Margaret Ann Russell in January '63 but by the time he cut that song, their marriage was beginning to turn seriously sour and they would soon meet in court for divorce ; meanwhile, according to Steven Mandich, she had intended to issue a summons against him so perhaps it was a way for Gene to try to tame her. Nothing all that wonderful here, but back to the song. It was a great performance from Gene whose voice is perfectly suited to this kind of uptempo, beaty stuff. This time, the Ivor Raymonde Orchestra & Chorus does a great job : the backing is dense and powerful, and there's a rocking piano break midway. Superb. This became the 'plug side' of his third Columbia single (DB 7293) but alas, it didn't make the charts either, leaving Gene without a sizeable hit to boost his recording career.
In France, those six songs were spread over two beautiful EPs (pictured at left), the second also containing both tracks from Gene's fourth and last Columbia single, plus a choice cut from his new album.
It's fortunate that, in full British Beat boom, the powers-that-be at EMI thought it necessary to record Gene with a real rock'n'roll combo. The combo in question happened to be The Shouts who had been steadily backing him up on stage since January '64. On March 8, they were with Gene at The Alhambra in Paris. Comprised of Tim Bates (lead guitar), Jim Field (tenor sax), John Reece (bass), Eric Baker (keyboards) and Victor Clarke (drums), a line-up similar to that of The Dave Clark Five, they were nevertheless technically much better and provided a flawless accompaniment at Vincent's forthcoming sessions. Being an English band and making ample use of an organ still seems to upset a number of fans ; instead, they should be thankful for the remarkable musicianship of most of these British groups and their dedication to bring back real rock'n'roll and rhythm'n'blues to the foreground of the music scene.

Gene Vincent on stage with The Shouts. These pics were on the back of the UK issue of 'Shakin' Up A Storm'.

1964 was a great year for Rock'n'Roll with all these British bands revisiting many classics on their splendid debut albums (think The Stones, The Animals, Manfred Mann, The Hollies, The Swinging Blue Jeans and more). The Beatles, who had already cut several high class rockers the previous year, would continue to stun with the 'Long Tall Sally' EP and their 'Beatles For Sale' opus. But it was also the year when Chuck Berry made his comeback with, arguably, the best rockin' LP of the year ('St Louis To Liverpool', Chess 1488), and the year of Jerry Lee Lewis's return to form, he who was in a similar situation as Gene's as far as chart action was concerned. Little Richard, Carl Perkins, Roy Orbison, Duane Eddy, Bo Diddley were making great strides again ; what the world needed now was a new Gene Vincent record, worthy of the man's talent.
Gene being constantly on tour, the four sessions for his new album would be held at rather wide intervals between March and June. The man assigned to the task of producer was Bob Barratt. In the book, 'Abbey Road' (by Southall, Vince & Rouse), Barratt had this to say about Gene : 'He was one of my favourite artists and it was a great experience for me to work with him. [] He was a very talented man and, surprisingly in view of his public image, a very humble man. Right up until the end of his life, although we were the same age, he always called me sir.' Despite a distinct lack of information, here's the genesis of 'Shakin' Up A Storm'.
MONDAY, MARCH 16, 1964
Three songs were recorded on that day.
Love, Love, Love : A Clovers song from 1956, backed with 'Your Tender Lips' on Atlantic 1094. This doo-wop vocal group is better known for the original versions of 'Devil Or Angel' (Atlantic 1083, 1956) and 'Love Potion No. 9' (United Artists 180, 1959). A catchy guitar intro, an effective sax break, a tight backing and Gene in real good voice, all the ingredients in a recipe for a fine session were definitely there.
Lavender Blue : Here's one of Gene's best ever ballads, on a par with 'Over The Rainbow', 'Peace Of Mind', 'Now Is The Hour', 'You Are The One For Me' and 'Unchained Melody'. The way he tackles Sammy Turner's 1961 hit (Big Top 3016) is out of this world. His high octave ending is one of pop music's great moments and the delicate organ-dominated accompaniment of The Shouts (with a celeste solo, like in 'Over The Rainbow') is testament to their taste and versatility.
You Are My Sunshine : Matrix # 7XCA 26663. To end this memorable session, Gene cut what can be considered the definitive version of that country music evergreen, written in 1939 by singer Jimmie Davis and his steel guitar player, Charles Mitchell. There's been a zillion cover versions, from Gene Autry's to Ray Charles's, and the latter was probably the one which inspired Vincent. It was on Ray's album, 'Modern Sounds In C'n'W - Volume Two' (ABC 435). Again, Gene's soulful and tortured treatment of the song is unique and the organ solo is perfectly well executed. There's an almost hypnotic feel to his rendition which made it an obvious choice for Gene's next (and last) Columbia single (DB 7343). [Note the odd and obviously out of sequence matrix numbers for the songs of this last single].
Three days later, on March 19, Gene appeared in the celebrated Granada TV Network Production show, 'A Whole Lotta Shakin' Goin' On', alongside The Animals and its headliner, Jerry Lee Lewis. Filmed at the Granada Studios in Manchester, directed by Philip Casson and produced by John Hamp, it was hailed for quite some time as 'the wildest TV show in years'. There's no denying the fact that no one - even Gene - could have followed Jerry Lee on stage. He opened his act here singing 'Great Balls Of Fire' from a platform situated some ten feet above the stage and brought it to a close with a version of 'Whole Lotta Shakin' described as 'pulverising' before climbing on top of his piano. He brought the house down but Gene's spot at the start of the show had made a very strong impression. Backed up by his trusty Shouts, he sang 'Be Bop A Lula', 'You Are My Sunshine', 'Say Mama' ('a real highlight' according to a paperman), 'I'm Going Home' and finished with the soon-to-be-recorded 'Long Tall Sally'. Who said that Rock'n'Roll was dead by 1960 ?
WEDNESDAY, APRIL 15, 1964
Five songs on the menu this time.
Slippin' & Slidin' : Gene has always cited Little Richard as his favorite R'n'R singer, and this is one of five Penniman covers on the disc. He gives a powerful rendition with an excellent guitar solo from Tim Bates.
Private Detective : Matrix # 7XCA 26662. Not counting the remake of 'Baby Blue', this is one of the two new original cuts here. And what a song it is ! Credited to Sheri Ann, who was his newly born daughter, it was of course written by Gene and sung in his unique and inimitable manner. The lyrics about 'a private detective working for my wife' and the sometimes devilish voice with which he sings say a lot about the meaning of the song in view of the current state of his marriage. The guitar backing (lead and bass) is impeccable in this fast paced track, and the always perfect drumming of Victor Clarke adds a welcome touch of Bo Diddley-style beat.
Pure class. It became the A-side of his last Columbia single (DB 7343).
In 1990, we were treated to the true stereo mix of this song on the UK CD set - the only stereo which had survived from these sessions.
Shimmy Shammy Shingle : The other original song of the batch, written by all five Shouts. And it's a good mod-beat dancer with a two-part middle break, on organ and then on sax.
Long Tall Sally : One of the greatest cuts on the album, which opened side two in exceptional fashion. I will confess that 'Long Tall Sally' is probably my favorite Rock and Roll classic of all, and I love just about all its versions - except Pat's ! Eddie Cochran, Elvis, Jerry Lee Lewis, Vince Taylor, The Beatles, The Swinging Blue Jeans, all applied their own signature to that stupendous Little Richard original but to me, Gene's rendering has an extra something over the others. His vocal is simply brilliant and The Shouts perform at their best here. The track packs a colossal punch, with the bass guitar at times almost enveloping the rest of the instrumentation but it's no complaint. Had not The Fab Four put out their incredible version on an EP by the time Gene cut his own, 'Long Tall Sally' would have made a wonderful single side. It was, however, rightly chosen as the lead track for Gene's second French Columbia EP (ESRF 1649).
Good Golly, Miss Molly : One more Little Richard cover, which was enjoying a successful revival at the time thanks to The Swinging Blue Jeans. But Vincent's version is so much better, his voice literally jumping out of the speakers each time he howls 'Good Golly, Miss Molly' over Victor Clarke's fierce bass drum attack.

They must have been exhausted after such a recording date but there was no respite in sight. The next day, they were scheduled to play in Birkenhead and then countless other places in England, with a few shows in Germany (at The Star Club) in-between, plus a couple of TV shows ('Juke Box Jury' in May and 'Thank Your Lucky Stars' in June).
TUESDAY, JUNE 23, 1964
For this third session, he delved again into Little Richard's reservoir of songs.
Send Me Some Lovin' : Originally the flip side of 'Lucille' (Specialty 598). Another highly successful rendition, with Gene's phrasing beyond perfection and a tremendous double-tracked tenor sax solo from Jim Field. He used a raspy tone on the uptempo numbers but here, on this slow ballad, his sound is crystal clear.
Hey Hey Hey Hey : Originally coupled with 'Good Golly, Miss Molly' (Specialty 624). The track which opened side one and perfectly set the mood for the LP. A great rockin' version featuring a strong sax break, some piano in the background and vocal support from the band. Less than four months later, The Beatles would record a composite of this song and 'Kansas City' for their fourth long-player.
Another Saturday Night : Gene was also a great admirer of Sam Cooke, himself a unique vocalist and important composer whose contribution to early soul music was determining. It was released by Sam in 1963 (RCA Victor 47-8164). Our man Gene had no difficulty to sing this and virtually make it his own. The superb organ solo by Eric Baker was spot-on. It's the kind of song that sticks in your mind forever afterwards.
WEDNESDAY, JUNE 24, 1964
The fourth and last session, for the album and for EMI altogether.
Someday (You'll Want Me To Want You) : Ricky Nelson had recorded a great version of this 20-year-old song on his second Imperial album. The late country singer, Patsy Cline, had a posthumous hit with it in 1964. Gene probably had heard both of them because there are distant country overtones in his version, notably due to Tim Bates's guitar picking, but the celeste solo and Vincent's delicate singing put it in a different bag which ultimately belongs to only him.
Baby Blue : Since he had redone 'Be Bop A Lula' two years ago, it was best to try another Blue Caps-era classic. 'Baby Blue', co-written by Gene and bassist Bobby Jones, proved to be a well conceived choice. The new recording retained the bluesy feel, even more so with the sax and organ replacing the backing voices of Peek and Facenda on the original. The guitar break, though excellent, could not equal Johnny Meeks's but the whole thing was more than satisfying.
Susie Q : They ended on a high note with a good cover of Dale Hawkins's calling card from 1957 (Checker 863). The Rolling Stones had cut it on their second album that same year.
What's not to like then ? Those who once thought that the album was rush released are proved to be very wrong. This fabulous LP hit the shops in October 1964 and was met with critical acclaim, especially in France where it sold well enough to be reissued three times between 1966 and 1984. The rare Japanese issue can be seen on my 'Gene In Japan' page. Of course, it appeared in its entirety on the UK 6-CD set from 1990, and saw an even better remastering (all mono) when reissued in 1997 as part of the 'EMI 100th Anniversary' CD series.
Although Gene's contract with EMI apparently ended in February 1966, there would be no more official studio recordings in 1965, the only official release being a reissue of the 'Crazy Times' LP (MFP 1053, mono) in England. At long last, he took an extended break in '65 and married singer Jackie Frisco. But he was soon back on tour, sometimes accompanied by The Puppets, a British band who had an excellent single on Pye ('Baby Don't Cry' b/w 'Shake With Me', #7N 15634) the previous year, produced by Joe Meek.
The next studio sessions would be with Challenge Records in June 1966, exactly two years after those which yielded his last pure rock'n'roll album, one which should be given its right place among his accomplishments.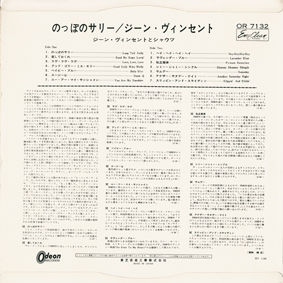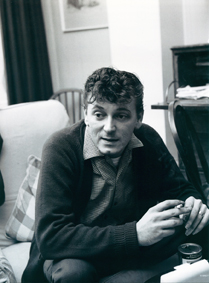 Above left : the back cover of the Japanesse LP. Right : Gene at home in a quieter moment.
Below : Gene onstage with The Shouts at The Alhambra in Paris (March 8, 1964).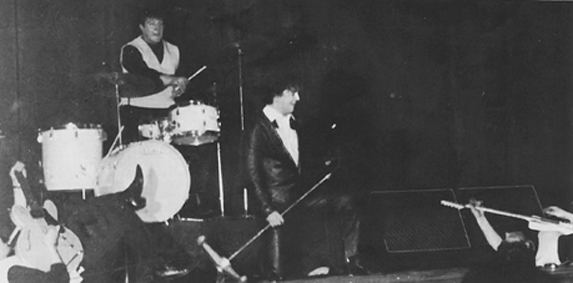 © PAUL VIDAL * Privas, France * March 2020