The show started in 1945. Ed McLemore was the owner and, for many years, Johnny Hicks and Johnny Harper were co-producers. In August 1956, Country'n'Western Jamboree visited the Big D Jamboree to celebrate its 11th anniversary. They wrote that the highlight of the Big D's 11th Anniversary Year was unquestionably the signing of Carl Perkins as a regular star of the show. A special ad on page 20 announced that other performers included Charline Arthur, Sonny James, Hank Locklin, The Texas Stompers, The Belew Twins, LaFawn Paul, Joe Poovey, Helen Hall, Marvin Montgomery, Sheree Davis, Jim Boyd, Orville Couch, Nancy Castlebury, Billy Edwards and Gene Bradley. Man, what a cast ! And of course, there was a number of fine pics, notably of Perkins, Joe Poovey, Webb Pierce, Eddie McDuff and Marvin Montgomery.
In 1963, Starday Records put out an album called 'The Big 'D' Jamboree - Live, Direct From The Stage Of Ed McLemore's Sportatorium in Dallas, Texas' (SLP 264) which was supposed to have been recorded live in September 1963 with 'two gun' Horace Logan, formerly of Shreveport's Louisiana Hayride, as master of ceremonies. Of course, not surprisingly with Don Pierce's dubious tactics, it was comprised mainly of fake live recordings (various original Starday cuts with crowd applause added in the studio) except for two tracks by Frankie Miller ('Blackland Farmer' and 'Impersonations' where he apes Johnny Cash, Lefty Frizzell and others) and one by Tony Douglas who sings 'Seasons Of My Heart'.
Pierce's liner notes gave a fairly good picture of what the (radio, then TV) show looked like : 'Presented every Saturday night, the year round, it's a four hour, all live Country Music program. The show is unique in that the performers entertain in the so-called 'ring' used by boxers and wrestlers. This means that the performers are surrounded by their audience. It takes a real professional showman to work to an audience in this manner'. Elsewhere, he wrote : 'Along about thirty minutes before the official starting show time of 8 p.m., there is a 'search for talent' performance which enables aspiring new Country Music performers to audition before the officials of the program and a live audience. Those with the most appeal are selected for performances during the regular part of the show'.
Although it was broadcast locally on KRLD and nationally on CBS for quite some time between 1950 and 1960, no tapes of the show - or associated with the show - were known to exist.

Fast forward to 1991 and we are informed of an incredible release on Sweden's Sunjay label (SJLP 588) featuring 'original tapes of the Big D Jamboree'. The striking yellow cover displayed a pic of Gene in 1956 and one of Johnny Carroll in 1957. Wow ! However, these were not the expected 'live' tapes but totally unexpected 'demo' tapes whose origins are explained by Dave Travis in his liner notes : 'Ed McLemore also ran Big D Publishing out of his office and, because of this connection with the industry, made a point of recording or demoing almost everyone who appeared on the show. [] By extraordinary good fortune, a number of tapes were made & used for broadcast over KXOL radio, covering the Dallas/Fort Worth area, and these are some of the tapes included here'.

The LP contained 22 tracks of the highest quality, both in sound and material. Ronnie 'Dee' Dawson, who really got his start on the Big D, appears with 'I Make The Love'. Another regular on the show was Eddie McDuff and the six demos on offer here are simply astounding ('Doggone It-It's Love', 'Baby Doll', 'The Record', 'Convince Me', 'Your Axel's Draggin' and 'Baby Sittin'). According to Dave Travis, there was a whole tape of demos by Eddie from which they selected the most rockin'. Billy Jack Hale was one of the most popular stars of the Big D but cut only a handful of records, the biggest being 'First Heartbreak' b/w 'Your Eyes' (Decca 30477) ; his four tracks here were cut for Jack Rhodes ('I've Got To See For Myself', 'Lucky Me-Lucky You', the whistling 'Keep Me In Your Heart' which would have suited Gene Vincent or Tommy Sands and the dynamite guitar rocker, 'Move Over Buddy'). Randy Johnson, better known under his DJ name of Chris Eric Stevens, is Billy Jack's first cousin and contacted me in 2012 ; he said that Hale, 74 at the time, was still living close to Dallas in Carrollton and that some of his 'earlier songs were done at the Mineola Recording Studio in Mineola, Texas', so maybe the demos came from there. Apparently, both Chris and Billy Jack were annoyed by the whistling overlay on 'Keep Me In Your Heart' and would have gladly traded it for some 'doo-waahhs' in the Mel Carter tradition' !
Mitchell Torok has three winners here : 'Pecos Jail', 'Ruby Lee' and 'A Few More Memories', all haunting and classy songs in the Marty Robbins style. I still consider him as very underrated. Guy Parnell ('5 Will Get You 10') and Jay Hawkins ('She's My Baby') are obscure but very good. This left six tracks and yes, they really were genuine unissued demos from Johnny Carroll and Gene Vincent !
Johnny Carroll has four more jewels for his crown : 'Cat With The Skins', the wonderful 'Be Bop A Lula Is Back On The Town', the excellent instrumental 'Havana Nights' and his own take on 'Lonesome Boy' which, in case we didn't know, demonstrates his profound admiration for Gene Vincent who himself provides an early countryfied rendition of 'Lonesome Boy' and the Johnny Carroll-written 'Lady Bug'. Great talents, like great minds, think alike !

The Sunjay album was issued on CD by Japan's Go Cat Go label in 1994 (TECX-25750) and the sound was gorgeous. However, Dave Travis's notes had left us somewhat intrigued as to what could still remain to be heard. We had to wait until 1998 to get the answer.
It came in the form of a CD put out in the States by Dragon Street Records (DCD-70198), David Dennard's label, and released in the UK by Rollercoaster Records (RCCD 3031). The latter is the one I bought. It collects most everything Gene & His Blue Caps cut in Dallas (either at his Dallas home or at the Sellers Company Recording Studios) in '57 & '58 and, as a bonus, adds four live recordings direct from the stage of the Big D Jamboree !
On board are the already known 'Lonesome Boy' and 'Lady Bug' but also various 'working' takes of 'Lotta Lovin' and 'In My Dreams'. There are two incomplete as well as unconvincing takes of 'Nervous' and two superb attempts at 'The Night Is So Lonely' (one of them featuring some real nice Everly Bros-type harmonizing). Of course, the real treats are the acoustic demo of 'In Love Again' (named 'My Love'), the wild 'Hey Mama' which later became 'Say Mama' (dig Ronnie Dawson's guitar break here, Johnny Meeks was simply not there at the moment) and Gene whistling a beautiful melody called 'On My Mind' against his own acoustic guitar backing (the beginning reminds me a little bit of 'You Belong To Me').
Most of the remaining songs are demos of material Gene chose to record later on when in Hollywood, and it's always fascinating to discover the origins of such familiar recordings as 'Lotta Lovin', heard here by Norton Johnson. Upon hearing it, Gene instantly, and rightly, recognized its hit potential. Darrell Glenn was a talented artist whose records on Valley ('Don't Let Me Down', V-107 from 1954) and NRC ('Congratulations To Me', NRC 004 in 1958) are excellent ; his own recording of 'Who's Pushin' Your Swing' features some biting guitar and a piano break which could be courtesy of Ray Stevens. Gene's reworking of the song was different, with Clifton Simmons' piano and the saxes giving a more swinging feel to it. Bob Kelly's demos of both 'Git It' and 'Somebody Help Me' are outstanding, with vocal arrangements already well in place ; everybody agrees that Gene's version is one of the high spots of his whole recording career with great playing from all involved (Bobby Jones's bass lines are terrific) and a wonderful contribution (vocal this time) from our beloved Eddie Cochran. And I liked Grady Owen's countryish 'I Don't Feel Like Rockin' Tonight'. Grady of course later joined The Blue Caps (on rhythm guitar, then on bass) and wrote 'Lovely Loretta' which was part of the soundtrack for the movie, 'Hot Rod Gang'.
The live stuff, which Derek Henderson dates to right after the October '58 sessions at the Capitol Tower, is 'something else' ! Up to then, only two live cuts by Gene with The Blue Caps were available on vinyl and CD : 'Be-Bop-A-Lula' and 'Hound Dog', recorded in 1956 at Alan Freed's Rock And Roll Dance Party.
The packaging is top class, the Shure microphone pic on the disc is nifty and Derek Henderson's precise liner notes are most welcome to keep things in the right context. There's a wealth of rare pics at the bottom of each page of the accompanying booklet - I only wish they had been bigger !
The good guys at Rollercoaster know that we still collect pieces of plastic and, frankly, such a release deserved a special vinyl edition. Well, it's out, in the form of a cool 10" LP titled 'Hey Mama!' (ROLL 2021) which contains 11 out of the 21 tracks on the CD, live tracks included. And there's also a 4-track EP culled from the CD (RCEP 123) with 'Hey Mama', 'In My Dreams', 'The Night Is So Lonely' and 'Git It' by Bob Kelly... if you still have a few 'euros' left to buy it. In the US, Norton Records also issued an EP ('Blue Gene', EP-076) which offered 'My Love', 'In My Dreams', 'The Night Is So Lonely' and 'Lonesome Boy'. Both EPs are pictured below.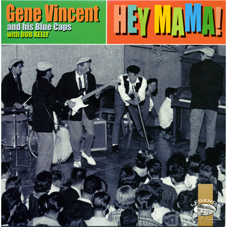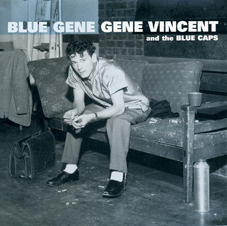 Although no other Texas recordings by Gene & The Caps have since been discovered, David Dennard's meticulous research through the archives of the radio broadcasts in Washington, DC, in 1997 brought to light an astonishing number of live tracks by a plethora of Country and Rockabilly artists of the 50's. Here's a small, but telling, list : Cowboy Copas, Hank Locklin, Sherry Davis, Orville Couch, Wanda Jackson, Johnny Cash, Charline Arthur, Jimmy Lee Fautheree, Carl Perkins, The Belew Twins, Warren Smith and Sid King & The Five Strings. In 2000, a 2-CD set was issued by Dragon Street Records under the title 'The Big D Jamboree, Live - Vol. 1 & 2' which allowed us to savor 54 nuggets of great music, including the four from Gene. In England, Rollercoaster chose to release this stuff in two separate digipacks, one for the Country & Western sides (RCCD 3043) and the other for the Rock'n'Roll sides (RCCD 3042).
In between Gene's disc and the above set, the 'Legends Of The Big D Jamboree' CD series was enriched with two more volumes : Johnny Dollar 'Mr. Action Packed' (DCD 70298) and 'Groovey' Joe Poovey 'Greatest Grooves' (DCD 70199) [both soon to be reviewed on this very website].
UK's Rollercoaster then put out several beautiful EPs spotlighting some of these Big D Jamboree celebrities.

In 2002, another batch (a whoopin' 62 tracks, to be precise) of live goodies from the famous radio show were released under the title, 'The Guys & Gals Of The Big D Jamboree'. This time, the 2-CD set was the job of Rollercoaster (RCCD 3049) and included artists who were not present on the above compilations, like Janis Martin, Riley Crabtree, Doug Bragg, Helen Hall, Buddy Griffin or Gene O'Quin. And of course, it took Bear Family Records to fully and definitely anthologize the Big D legacy via an exceptional 8-CD set in 2013.
It would have been criminal if all that superb music, which came from Dallas' famed Sportatorium and rocked the airwaves in Texas and elsewhere during the 50's and early 60's, had laid forever dormant on untouched tapes and transcription discs. But it should be remembered that it was the tenacity of David Dennard and his obstinate quest for more

Gene Vincent

music which led to their discovery.

© PAUL VIDAL * Privas, France * 1998 - 1999 - 2019