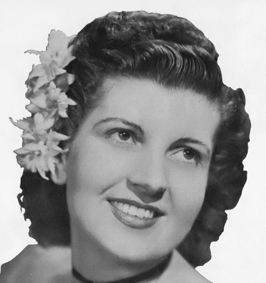 Sunshine Sue.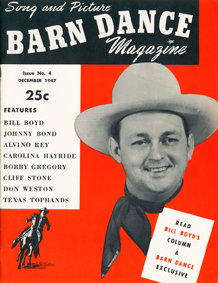 The picture at the top of the page shows a good part of the cast of The Old Dominion Barn Dance (Richmond, Virginia). This was one of the many successful radio shows across the USA, which featured Joe Maphis and Rose Lee in their early days and which would give Janis Martin her big break in 1955. Here's what was written in issue #4 of 'Barn Dance Magazine' (December 1947) : The old Dominion Barn Dance had emerged from radio station WRVA barn dance last September [1947] and since then it has played to over 100,000 paid admissions at the theater from which it broadcasts. It has drawn hundreds of thousands of crowds from listeners - some East coast and some West. The 'Femcee' of the program was the gorgeous Sunshine Sue (real name : Mary Arlene Higdon ; she later became Mrs. John Workman). She had something of Patsy Cline but was much prettier in my humble opinion. Sunshine Sue and her Rangers had been featured on the National and Columbia Networks. She once was crowned as 'Queen Of The Hillbillies' by Governor William M. Tuck of Virginia. Old days indeed ; wonder what Dolly Parton would think of such an accolade ! She later cut at least one single for Decca (#29156), 'Blackberry Winter' c/w'Please Don't Spoil Me'. Eventually, the show became The New Dominion Barn Dance.


Back to the photomontage at the top. In color is the beautiful Rose Lee Maphis (this pic graced the front cover of her only solo album, on Columbia). She teamed up with Mary Klick to perform as 'The Saddle Sweethearts'. On her left, in black and white, is Sunshine Sue. At the bottom, members of the cast, including Benny & Curly (back row, at left), Looney Luke & Roly Poly Reid (back row, at right), Bill & Arline Wiltshire (front row, beside the accordion player), Little Robert (easy to spot) and, at far right, Joe Maphis. For your pleasure, here are more pics of some of these artists as they appeared in that same issue of the December '47 Barn Dance mag.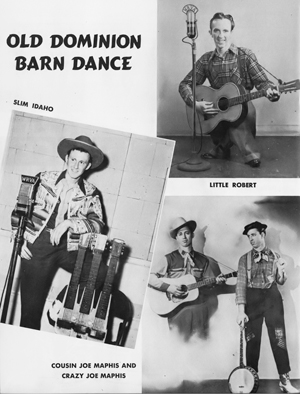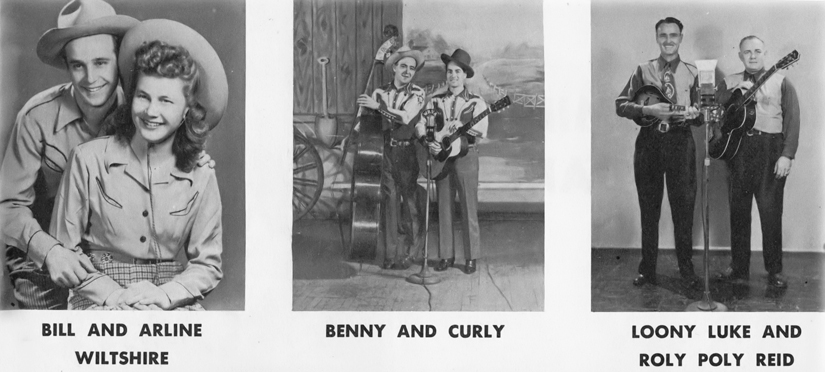 At far left, you'll notice Slim Idaho with his triple neck steel guitar. At right, Looney Luke (real name : Henry Luther Baucom) and Roly Poly Reid (real name : Edgar Reid Summey) had been part of the Tobacco Tags. Apparently, they used to do this routine where Reid would play the part of a woman (singing high pitched) and then Luke would sing and do comedy stuff with 'her' ! Reid Summey died in 1975 at the age of 72. He lived in Galax, Va., at the time. And then, there's Joe Maphis doubling as 'Cousin Joe' and 'Crazy Joe'.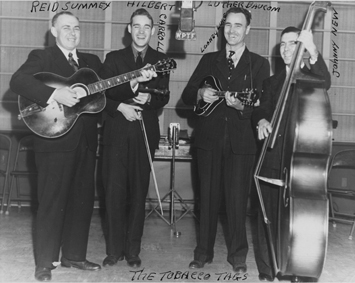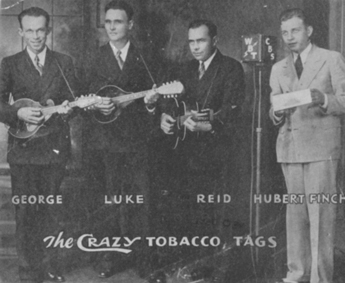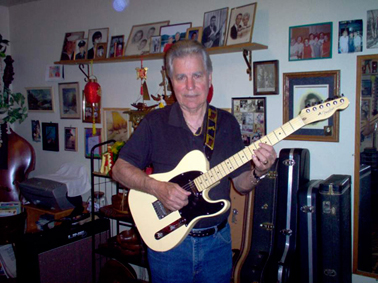 Joe Walker, pictured here, a skilled guitar player who has an excellent CD out, reminisces : 'Maphis played both electric and acoustic - he used a Martin archtop which is the only one I have ever seen . I was featured with Joe on The Old Dominion as Little Joe Jr. He would play and I would come back and play exactly the same thing as he did. I knew all of the players on the show and stayed with some of them at their homes. I played a lot with Lenny Jones and Bill & Arlene Wiltshire. I also played with Bill in clubs in Washington, D.C. Red Murphy, who is in the cast picture above, started the Atlantic Barn Dance in Richmond, Va. and I worked with him for a long time until he went to Nashville with the Carter Sisters and Chet Atkins. Last, a player named Ray Edington, who was engaged to Rose Lee, became ill and had to go to a sanitarium. Later, Rose Lee married Joe Maphis. After the service, I moved to Riverside, California, where I played with a house band for the greats coming thru. I was also a member of the Bobby Bare band there. Later got into jazz and still play here locally'.


More info has come to light lately. Dale Mickle wrote that his Great Uncle, Dave Tyler, set in to play with Sunshine Sue when a member was ill. And Joyce (last name unknown) sent me this wonderful account of those days gone by : 'In the '40s when Sunshine Sue and her cast were so popular in Richmond and the surrounding towns, I was privileged to see several of their shows at the WRVA theatre at 9th and Broad. There were two shows every Saturday night, and the crowds were always lined up to attend each show.
I think one very important group that you did not mention as part of the cast was Maybelle Carter and The Carter Sisters. Mother Maybelle with Helen, June, and Anita were adored by all! Their typical Carter harmony brought down the house everytime they sang. Maybelle played guitar and autoharp; Helen played a mean accordion; June was such a great comic character and interacted regularly with Crazy Joe Maphis; Anita, who was pre-teen, had a strong voice, and the crowd loved to hear her rendition of 'Freight Train Blues'. She was quite a yodeler, and could hold a note till the audience almost fainted! As she sang the line, "I've got the freight brain blu--oos" - she would take that last syllable way up high and hold it forever. Joe Maphis would stand in front of her doing all sorts of shenanigans, trying to make her laugh, to no avail. She held it until she was ready to stop !
In addition to Saturday night performances, various groups within the organization appeared in schools, civic centers, etc., in nearby communities. I attended one of these in which Sam Workman and several musicians entertained in the railroad station! He was Sunshine Sue's brother-in-law, and besides performing with the Barn Dance, he had his own radio program which featured hymns and poetry. I have one of his booklets that he made available to fans.
The Tobacco Tags also had their own radio show and did personal appearances here and there. You mentioned their skits in which Roly-Poly Reed played a woman. They were hilarious! As his name suggests, he was rather plump, and that added to his character with make-up, wigs, and fancy dresses. One of their best songs was "Paper of Pins". I grew up seeing these groups; they seemed almost like family to their Virginia fans. And you know what, Paul? They did it all without being trashy ! I'm thankful and proud to be part of that generation'.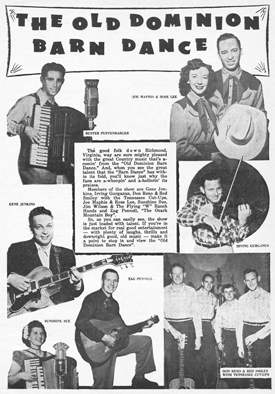 The above picture is in fact a full page out of the April 1957 issue of Country Song Roundup, which simply mentioned some of the more recent members of the show : Gene Jenkins (guitar player), Irving Gurganus (a fiddler), Jim Wilson & The Flying 'W' Ranch Hands, Buster Puffenbarger (with accordion), Zag Pennell (The Ozark Mountain Boy) and, more importantly, Don Reno & Red Smiley with The Tennessee Cut-Ups who had long been cutting great records for the King label. Note that Joe & Rose Lee Maphis are still mentioned and pictured, although they had departed for the West Coast some six or seven years earlier.

The last word will be for Mr Wes Vassar who kindly shared the following with me in 2010 : 'I was born and rased in Richmond VA during the 30s, 40s, and 50s. My older brother and I enlisted in the service in July 1954. On the eve of our departure we went to the Old Dominion Barn Dance. In addition to all te usual cast, including Sunshine Sue and the Carter sisters (my brother delivered papers to the Carter house, up on Garland Avenue, as I recall), there was a male vocalist, Zack, the Ozark Mountain Boy. He sang two songs : "Vegetable Garden Love " (You're just like the sun above, shinin down on my garden of love, Love me long and love me true, I'd like to share my garden with you) and "Doggone It, Baby I'm in Love" (You're the cause you pretty creature, you're just like a double feature, you stay there and I'll get the preacher, doggone it, baby, I'm in love). I never heard of him before or since. I only heard those songs that once. Later, I was driving to a new assignment in California, passing through the salt flats of Utah in a 51 Studebaker when loud and clear I turned in WRVA's 50,000 watts on my AM car radio and heard Sunshine Sue singing "Blow Away Blackberry Winter." (Blow away, blow away, blackberry winter, make my lost love come home). I never heard that song before or since, but it was beautiful. By the time I finished my extended military tour, the Old Dominion Barn Dance was no more, and WRVA had changed to popular music programming. But for years after WWII, WRVA and WXGI were THE stations to listen to and both were solid country'.

Many thanks to Ms. Cathy Gregg, Cynthia Summey, Kim Lathan and Mr Mike Wade for their help with info and photos.
© Paul Vidal * Privas, France * September 1999 - July 2007 - September 2019