In effect, the chemistry was pretty much the same as with RCA Victor although the horns were less often present. Some of the early outings were billed as by 'Spade Cooley & His Fiddlin' Friends', but it was soon back to 'Spade Cooley & His Orchestra'. More vocalists appeared (like Betsy Gay or the excellent Phil Gray), but the first sessions still featured the talented Virginia 'Ginny' Jackson whose vocal in Hank Snow's 'The Rhumba Boogie' is a delight. The other side of that decidedly hot first Decca '45 was a cover of Billy Briggs's immortal 'Chew Tobacco Rag'. The guitar & steel guitar parts were super fine but who was that mysterious singer named 'Andy Klimax' ? Fortunately, collector/musicologist Jason Odd had the answer. It appears that he was none other than Del Porter AKA Delmar Smith Porter (04/13/1902-10/04/1977). A talented clarinetist, composer, arranger and singer, he exerted substantial influence on Spike Jones and had even been one of his famous City Slickers. He would sing again at Spade's next session.

Three more singles were recorded and released in 1951, the best being #46355 which coupled 'Down Yonder' (full of wonderful barrelhouse piano playing) and the galloping, jumping 'Horse Hair Boogie' where fiddle, guitar and steel guitar breaks abound.
Cameron Hill joined Jimmy Wyble on guitar for a while and Noel Boggs stayed on board most of the time but Joaquin Murphey later returned for a few sides at the end of Spade's tenure with the label. Hank Penny, who was one of Spade's closest friends, and Speedy West, who joined Spade's band briefly, explained to me that Cooley had a strong tendency to 'fire'em (when he was too drunk) then hire'em back' (when he had sobered up) !

Amazingly, only two singles appeared in 1952 but of course, Spade was so busy with his radio and TV shows, plus innumerable gigs at The Santa Monica Ballroom. One was composed of remakes of earlier hits ; both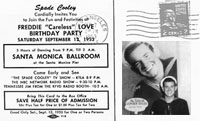 'Crazy 'Cause I Love You' and 'Swinging The Devil's Dream' had been waxed for Columbia in 1946. This time though, singer Tex Williams, who had long left Spade's band and started his own succesful career, was replaced by a certain 'Careless Love' on the former title. As usual, we'll leave it to Jason Odd to solve the mystery surrounding that name. 'Careless Love' is in fact, Freddie 'Careless' Love, the Sailor Singing Cowboy (what else ?!). Courtesy of Jason, you can enjoy (at right) a picture of a September 1953 invitation card to the Santa Monica Ballroom where Spade Cooley was giving a party in honor of Freddie's birthday.

The other '52 release ranks amongst Spade's best ever. 'Carmen's Boogie' is an irresistably swinging arrangement of 'The Habanera', a well-known part of Bizet's opera. The fiddling is brilliant but it's Noel Boggs who steals the show with a stupendous 'block chords' steel solo. The blending of the horns and fiddles at the end of the track is also very clever. As for 'One Sweet Letter From You', sung by Phil Gray, it's a very fine swinger with tasty big band arrangements. At that time, Spade's horn section usually included three trumpets, two trombones and five saxes.
Even more amazingly, 1953 yielded only two recording sessions which produced four singles of hoedowns and square dances. All were certainly well executed but I guess Charly Records were wise to select only the pleasant 'Nashville Special' from that batch.

The next visits to the recording studios took place in September 1954 for a couple of memorable sessions, mainly composed of instrumentals (without horns). The first session featured a mighty attractive mix, from the sweet and reflective 'Down By The Pecos', on through the charming, accordion-led 'Anita' and the stompin' 'Y'Hear' (one of Cooley's best in my opinion, with all band members allowed to cut loose !), to the funny 'The Cryin' Waltz' where the 'crying' vocals can only make one crack a smile ! The second date was just as good, especially thanks to the two songs which constituted single #29309. The lively instrumental, 'Break Up Down', featured another killer steel guitar solo from the incomparable Joaquin Murphey, while Betsy Gay took the vocal duties on 'You Clobbered Me' with aplomb.
---
And there you have it : apart from one last disc with Chuck Reed on vocals from a lone session in 1955, that's all Spade Cooley released while with Decca. A rather small - but still essential - dose of Western Swing. Happily, a healthy number of superb radio transcriptions from that period had been preserved and have now been released on CD. Obviously, the times were changing when Spade left the label ; however, it would have been hard to tell from simply looking at the record's labels, because the record company who used to describe Spade's music as 'Fox Trot' would soon apply the same terminology to Bill Haley's 'Rock Around The Clock' !
Although he gradually became a real estate developer, Spade stayed busy in the music field with his TV shows. In the October 1958 issue of 'Trail', for which the lovely Carolina Cotton had a column, she wrote that Spade had 'moved from the Riverside Rancho to Baldwin Park where he's remotin' his saturday night KTLA-TV hour straight from the ballroom. [] Spade says the yougsters around there are not only a wonderful audience, but they're some of the finest dancers he's seen in years.' The next year, there would be an album, 'Fidoodlin', on the Raynote label (SRN 5007 in stereo), later reissued by Roulette and much later, Murray Hill. The fourteen tracks had all been featured on his TV show throughout the years and Cooley was supported by a great band that included Joaquin Murphy, Roy Lanham, Fred Taggart and another superb take-off guitarist, Jimmy Luttrell.
It would be his last recording venture.
---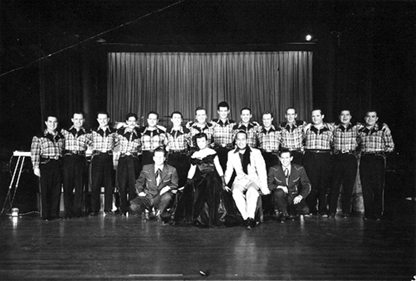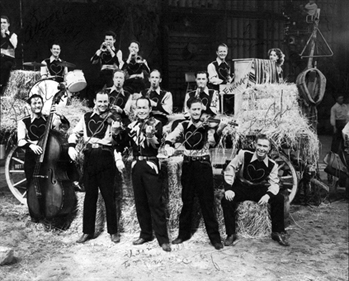 ---
Here, for the first time, is Spade Cooley's complete DECCA sessionography and discography.
Personnel details and other data are missing, thus I encourage all interested readers
to e-mail me with their additions and corrections. Thanks beforehand !!


© Paul Vidal * Privas, France * November 2000 - July 2007 - May 2014 - June 2019
HOLLYWOOD
March 9, 1951
Vocals : Andy Klimax *, Ginny Jackson **
Steel guitar : Noel Boggs
L6138 Chew Tobacco Rag (Billy Briggs)* 46310
L6139 The Rhumba Boogie (Hank Snow)** 46310
Note : Decca 46310 released on April 23, 1951. Both titles reissued on Charly CR 30239.
HOLLYWOOD
June 14, 1951
Vocals : Ginny Jackson *, Del Porter **
L6311 My Heart Is Broken In Three* 46376
L6312 Hitsitty Hotsitty* 46339
L6313 Lucky Leather Britches** 46339
Note : Decca 46339 issued on July 30,1951 ; Decca 46376 on November 5, 1951. 'Hitsitty Hotsitty' reissued on Charly CR 30239.
HOLLYWOOD
July 31, 1951
Vocals : Ginny Jackson *
L6379 The Cowboy Waltz* 46376
L6380 Down Yonder 46355
L6381 Horse Hair Boogie 46355
Note : All three titles reissued on Charly CR 30239.
HOLLYWOOD
May 21, 1952
Vocals : Careless Love *
Steel guitar : Noel Boggs
L6778 Crazy 'Cause I Love You (Spade Cooley)* 28253
L6779 Swingin' The Devil's Dream (Pedro DePaul-Spade Cooley) 28253

Note : Decca 28253 released on June 16, 1952. Both titles reissued on Charly CR 30239.
HOLLYWOOD
May 29,1952
Vocals : Phil Gray *
Steel guitar : Noel Boggs

L6780 Carmen's Boogie (George Cates-Mel Leven) 28344
L6781 One Sweet Letter From You (Lew Brown-Sidney Clare-Harry Warren)* 28344
Note : Decca 28344 put out on August 25, 1952. Both titles reissued on Charly CR 30239.
HOLLYWOOD
January 5, 1953

L6982 Nashville Special (Tempo 132) 40238
L6983 Baltimore Bounce (Tempo 132) 40237
L6984 San Fernando Square (Tempo 130) 40235
L6985 Rochester Reel (Tempo 136) 40236
Note : 'Nashville Special' reissued on Charly CR 30239.
HOLLYWOOD
January 7, 1953

L6988 Santa Monica Rambler 40237
L6989 Jersey Jig (Tempo 134) 40236
L6990 Seattle Square (Tempo 134) 40235
L6991 Y-Knot Rag (Tempo 136) 40238

Note : Decca 40235, 40236, 40237 and 40238 all released on November 16, 1953. Billed as 'Spade Cooley and His Square Dance Six'.
HOLLYWOOD
September 2, 1954
Steel guitar : Joaquin Murphy

L7841 Down By The Pecos ED-2226/DL-5563
L7842 Anita 29544
L7843 Y' Ready ED-2225/DL-5563/DL-8730
L7844 The Ping-Pong Song ED-2226/DL-5563/DL-8730
L7845 Y' Hear ED-2226/DL-5563/DL-8730
L7846 Yearning ED-2225/DL-5563
L7847 Not assigned ??
L7848 Sail On ED-2226/DL-5563
L7849 The Cryin' Waltz 29544

Note : Decca 29309 issued on November 15, 1954 ; Decca 29544 on June 13, 1955.
'Down By The Pecos', 'Anita', 'Y'Ready', 'Y'Hear' and 'The Cryin' Waltz' reissued on Charly CR 30239.
HOLLYWOOD
September 20, 1954
Vocals : Betsy Gay *
Steel guitar : Joaquin Murphy

L7906 Charmaine ED-2225
L7907 You Clobbered Me (Spade Cooley-Red Fox)* 29309
L7908 Break Up Down (Spade Cooley) 29309
L7909 Sparkling Silver Bells ED-2225/DL-5563


Note : Decca ED-2225 and ED-2226 are EPs in the 'Country'n'Western Dance-O-Rama' series.
All tracks were in fact taken from Decca DL-5663, a ten-inch LP in the same 'Dance-O-Rama' series,
which is billed under the name 'Spade Cooley With The Buckle Busters' ; like the two above EPs,
the album was released on October 17, 1955. The 'Dance-O-Rama' series also featured 10" LPs (and EPs)
by the likes of Milton Brown, Grady Martin and others.
Decca DL-8730 is a compilation album titled 'Western Swing In Hi-Fi', originally published on August 11, 1958.
'You Clobbered Me ' and 'Break Up Down' both reissued on Charly CR 30239.
Location unknown
November 13, 1955
Vocals : Chuck Reed

88300 No Need To Cry Anymore 29788
88301 Seasons Of My Heart 29788

Note : Release date of the above single : January 9, 1956.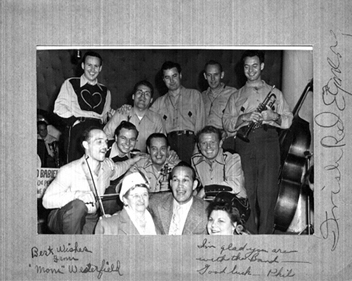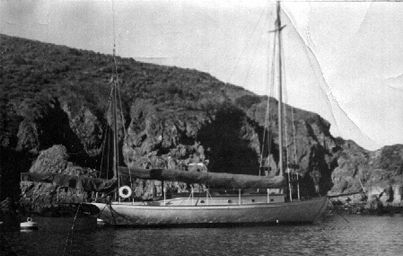 Left, Spade Cooley's band with Mom Westerfield - a longtime fan.
Right, Spade Cooley's own boat.