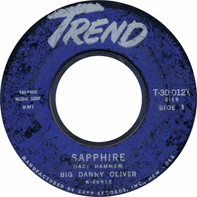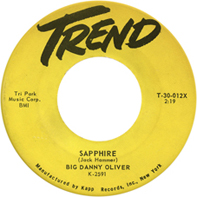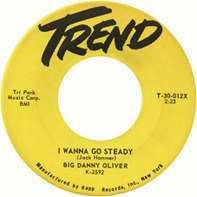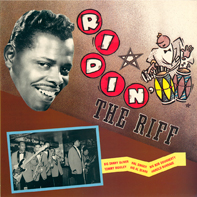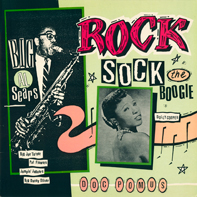 Big Danny Oliver - Trend T-30.012X


Sapphire (K 2591 X) - I Wanna Go Steady (K 2592 X)



'Sapphire, what in the world is wrong with you/you didn't come home until half past two' !
'Sapphire' is without a doubt one of the very best Little Richard-sounding rockers ever cut - on a par with those created by Harold Burrage, Joe Tex, Big Al Downing or Rockin' Bradley for instance.Written by Jack Hammer (of 'Great Balls Of Fire' fame) and released on Trend, a subsidiary label for Kapp Records in New-York, it was sung by Big Danny Oliver, one of the many great unknowns whose contribution to Rock'n'Roll is fascinating. Big Danny's vocal can safely be described as wild !! As for the backing, it is very tight and consists of piano, guitar, electric bass and drums. No saxes. Of course, the swooping piano part is as essential a feature of the song as Big Danny's voice. There's always been much speculation over who played that piano but, according to Rob Finnis's notes to the 'Rockin' From Coast To Coast-Vol. 1' CD (Ace CHD 496, 1996), it's now almost certain that it was David Clowney - who would later switch to organ and score big instrumental hits as 'Dave 'Baby' Cortez with 'The Happy Organ' (Clock 1009, 1959) and the unforgettable 'Rinky Dink' (Chess 1829, 1962).
The flip side, 'I Wanna Go Steady', was recorded at the same March 7, 1958, session. Another Jack Hammer composition, it's a superb bluesy item with vocal group backing, much in the Hank Ballard & Midnighters vein. Again, the piano is excellent (the intro is lifted straight from Fats Domino's 'Blue Monday') and there's a strong electric bass sound but this time the guitar is prominent - fluid and atmospheric. Mickey Baker ?? Apparently, this record was first put out on the parent Kapp label (# 721) and then switched to the Trend subsidiary. Hence the matrix numbers beginning with K. The Trend single is usually seen with a yellow label and the numbers machine stamped. As you can see at left, there was a later styrene pressing with a blue label, a black ring around the center hole and the numbers etched in the dead wax.
Big Danny Oliver had a second session for Trend on October 21, 1958 - amazingly the same day as Buddy Holly's last studio session, held at the Pythian Temple in New-York - and a second outing
(# 30.016X) coupling 'Blues For The 49' (K 3058 X) with 'In The Bottom Of My Heart' (K 3057 X). Apparently, another song, 'Handle With Care', was recorded but remained in the can until its appearance on a superb Charly LP from 1984, 'Rock Sock The Boogie' (CR 30237), which also featured 'Sapphire', 'Blues For The 49' (renamed here '49th State Blues') and 'In The Bottom Of My Heart' - with all four titles in stereo ! And what a surprise for, because of the basic but clean left-right separation, you can hear that more chorus, handclaps and some horn-sounding guitar were completely buried in the mono mix of 'Sapphire'.
The sleeve notes informed us that Big Danny had a final session for Trend on March 25th, 1959, at which he recorded three tracks : the gospel-based 'Baby Don't Cry', 'People' and 'Me Without You', all unissued at the time. Of these, only 'Baby Don't Cry' surfaced on vinyl when Charly Records in England released their 'Ridin' The Riff' LP in 1986 (CRB 1128), another essential R&B compilation which also included 'I Wanna Go Steady'. And of course, in typical Charly fashion, both 'Steady' (where a six-string bass is well audible) and 'Baby Don't Cry' appear in mono even though stereo masters must exist !
Not surprisingly, my conclusion is that 'Sapphire' belongs in every Rock'n'Roll record collection. Apart from the aforementioned Ace CD and Charly LP, this colossal track also kicked off MCA's 'Rare Rock'n'Roll-Volume 1' (CDL 8507), a 1980 UK album ; here, the compilers used the mono mix which, frankly, is still the best way to fully appreciate all its power.
All this means that one should be able to hear the song one way or another. Easier yet, you can also click the original '45 pictured above to hear 20 seconds of it in mp3 !