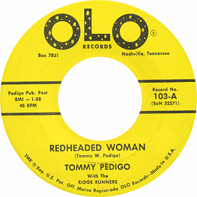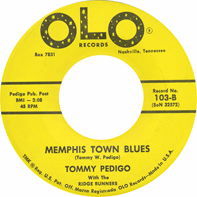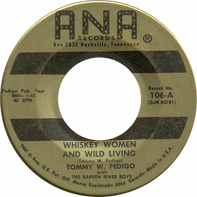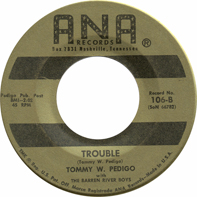 Tommy Pedigo - Olo 103 & Ana 106

What do hardcore collectors expect from a good Rockabilly or vintage Rock'n'Roll record ?
Wild vocals ? A driving beat ? Numerous and extended guitar/piano breaks ? Yes, and the whole lot will be even closer to the mark ! However, one can also dig laid back vocals, a more relaxed beat, unobtrusive choruses and sax or steel guitar soli !
Now, in the two Tommy Pedigo singles pictured
at left
, the main feature is the presence of no
fewer
than THREE guitar breaks in three songs out of four ('Memphis Town Blues' containing only two breaks) ! Thus,
such
heavily charged
latter-day Country Rockers find their place in any
r
ockabilly collection. They're also
highly
distinctive because of Tommy's very nasal and laid back vocals (certainly Bob Dylan's influence can be felt there) and thanks to the lead guitarist's clear, treble and slightly echoey sound (I bet he used a Fender Telecaster).
The songs, four Pedigo originals very similar in sound and structure, might have been cut at one same session but they were issued on two different labels, O
lo
and Ana (hey, that's three letters each
- and palindromes to boot !
), both based at the same address (Box 7831 - Nashville, Tennessee) and distributed by Sound Of Nashville. Olo 103 sees Tommy backed up by The Ridge Runners whereas Ana 106 credits The Barren River Boys as backing band ; they're obviously the same outfit. Unless Tommy plays one of the instruments, the band is comprised of an electric lead guitar, an acoustic rhythm guitar, an electric bass and a snare drum (beaten with brushes). 'Red Headed Woman' (Olo 103) is probably the pick of the bunch among
purists
but the flip, 'Memphis Town Blues', grows on you with each new spin. 'Trouble' (Ana 106) is my own favorite (by a hair, really) ; the other side, 'Whiskey, Women & Wild Living', is the most '
c
ountryfied' of the four. There's a date written in the dead wax of Olo 103 : '4/27/66', proving to the most rabid collectors that the Sixties did not necessarily ring the knell of
r
ockabilly.
Just who the late Tommy Pedigo was, remains rather mysterious. His full name was Tommy W. Pedigo (as shown on Ana 106) ; I'd like to know if he was one of the Pedigo Brothers who had a brilliant
roackabilly
'45 on another Tennessee label, Atwell (#100, 'She's Gone'). [Since I first wrote this piece, his official site has been set up and some welcome info can be found on this very unique stylist.]
OLO 103
SON 32571

Red Headed Woman




SON 32572

Memphis Town Blues

ANA 106
SON 66782

Trouble


SON 66781

Whiskey, Women & Wild Women